WHAT IS YOUNG PROFESSIONALS?
Young Professionals is a group for individuals (member & non-member) ages 21-40. The Young Professionals meet regularly to connect with each other, learn about the community, develop their leadership skills, and give back through volunteering opportunities. It is a great way to meet other like-minded individuals dedicated to developing further in their personal and professional life!
Our goal is to create a vibrant, growing business climate through attracting, retaining and preparing the region's next generation of business leaders and community decision-makers through this group. As a Young Professional, you have the ability to recieve our YP E-Newsletters, join the private YP Facebook Page, and recieve notices of our events.
February 16: YP Social – Mt. La Crosse Ski & Snowboard Night
Enjoy a night of skiing or snowboarding on Thrifty Thursday from 3:00pm – 8:00pm! Take a break from the hills (or just join) at 6:30pm to meet in the St. Bernard Room with other YP's for a few drinks and live music!
Skiing & Snowboarding: 3:00pm – 8:00pm
$25 per ticket, purchase lift tickets day of at Mt. La Crosse
St. Bernard Room: 6:30pm
Free, no ticket needed if you want to just attend the St. Bernard Room. Only cost is purchasing your own drinks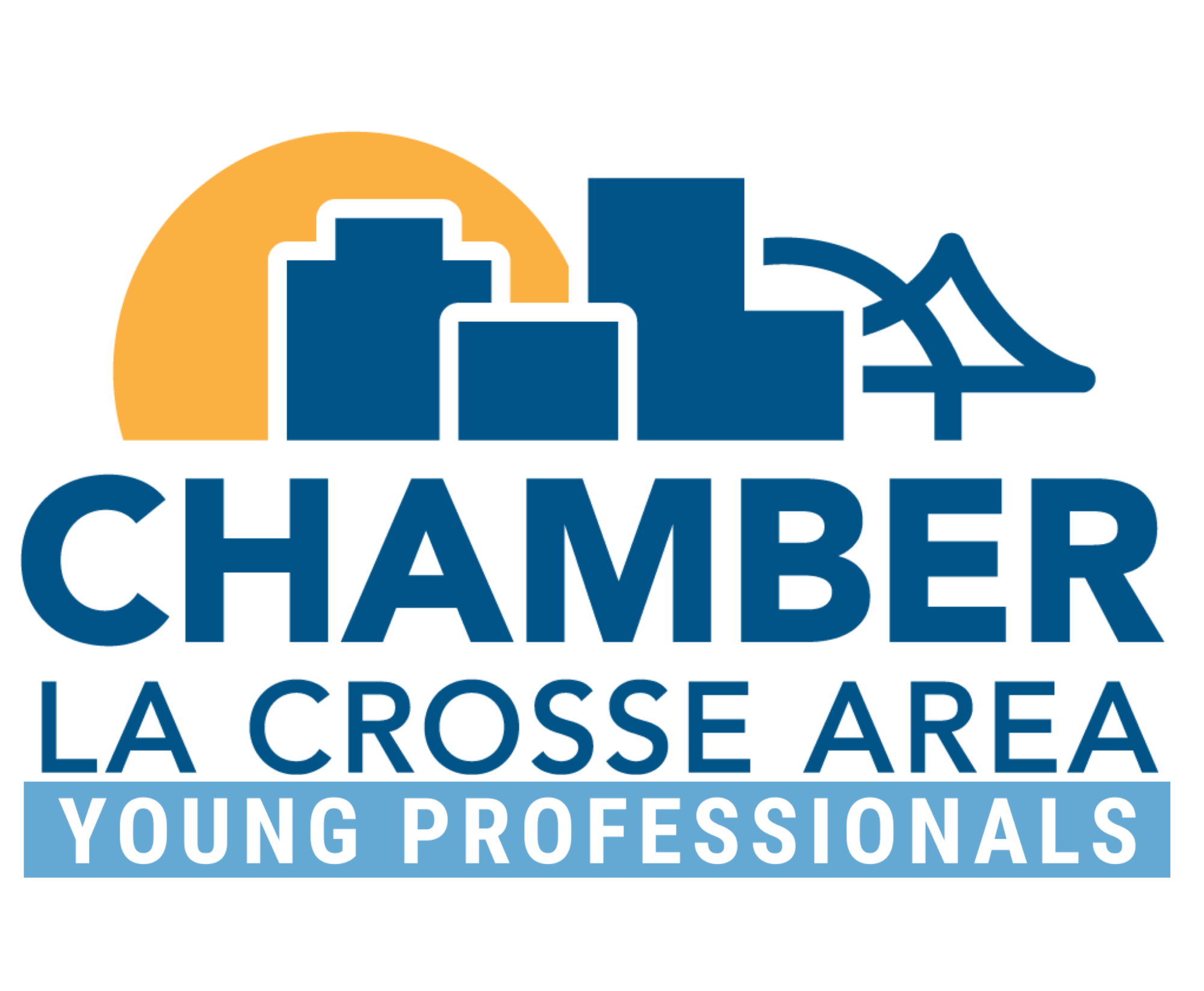 EVENTS
As a Young Professional, you have a variety of events to attend throughout the year! This includes…
Coffee Chats – Hear from local business leaders in a small group setting while enjoying a cup of coffee
Socials & Casual Meetups – Connect with other Young Professionals at locations around the La Crosse Area
Lunch & Learns – Enjoy lunch while attending educational sessions discussing informative topics
Signature Events – Join us at our highest attended events of the year
Young Professionals Awards

Loggers Summer Social

Young Professionals Golf Outing

Young Professionals Fall Fest
PRICING
CHAMBER MEMBER
$50 / Calendar Year
For employees whose company is a member of the La Crosse Area Chamber of Commerce
NON-MEMBER
$280 / Calendar Year
For individuals who are not a part of a Chamber member company
Option to pay $70 per quarter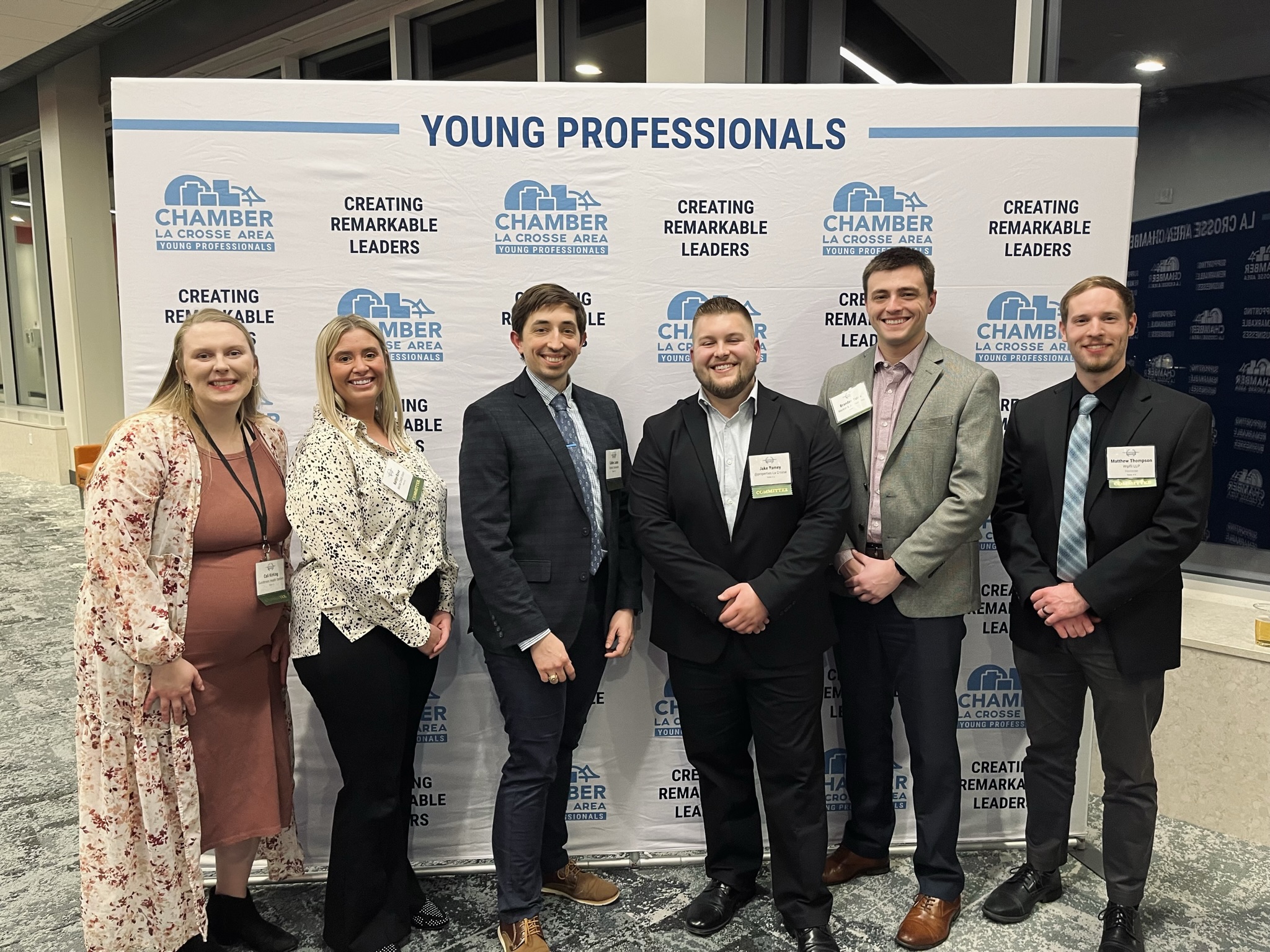 YOUNG PROFESSIONALS COMMITTEE
Chair – Jake Ramey, @properties
Heather Jordan, Trust Point/Emerj360 (Not Pictured)
Cali Kirking, Gundersen Health System
Cullan Lucas, Viterbo University
Kaitlyn Rowe, Marine Credit Union
Matt Thompson, Wipfli LLP
Branden Yates, Market & Johnson
THANK YOU TO OUR SPONSORS!
INTERESTED IN SPONSORING? EMAIL ANGELA SEEGER.
YOUNG PROFESSIONALS SPONSORS - $1,200
Sponsorship includes…
2 Young Professional Memberships
Logo recognition on

YP E-Newsletters
YP Webpage
YP Event Registration pages (Excluding YP Awards & Lunch & Learns)
Signage at YP events (Excluding YP Awards & Lunch & Learns)
YOUNG PROFESSIONALS LUNCH & LEARN SPONSOR - $3,000
Sponsor the Lunch & Learns for one calendar year for our Young Professionals
Program!
This exclusive opportunity has logo recognition on the event registration page, onsite on the catering
table at each Lunch & Learn event (minimum: 6 per year), on the Young Professionals
website, and also includes 2 social media mentions on the Young Professionals
Facebook page recognizing your sponsorship