2018-2019 La Crosse Area 
Relocation Guide & Business Directory
Receive the Relocation Guide & Business Directory
Discover all that Living in Greater La Crosse has to offer.
We make your move easier.
Receive a 64-page guide via email immediately with the printed publication coming via postal mail shortly thereafter.
Living in Greater La Crosse features comprehensive information about the La Crosse Area, including
a snapshot of who lives here
businesses that call greater La Crosse home
housing
healthcare
schools
recreation
shopping
dining
a listing of all Chamber-member businesses with whom you can connect
Now in Re-Production
The third annual Relocation Guide will continue to be distributed through our employers listed below, to all our member businesses in the La Crosse Area, and to those who request it online, for a total distribution of 5,000.
Don't miss your chance to connect your resources with this key group of individuals moving to this area.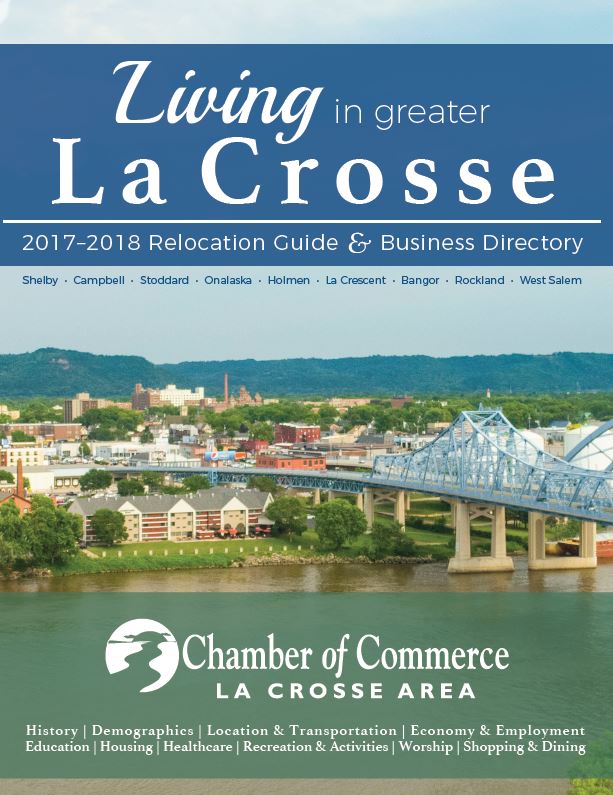 Current Distribution Locations:
*To receive Relocation Guides for distribution, please contact Relocate@lacrossechamber.com
• Kaplan
• Gundersen Health System
• Trane
• Dairlyland
• LHI
• Reinhart
• Inland
• People First
• UW-L
• Viterbo
• Western
• QPS Employment Group
• Referral Staffing Solutions
• Bi-State Realty & Appraisals
• Castle Realty, LLC
• Century 21 Affiliated
• Cindy Gerke & Assoc., Inc., Realtors
• Coldwell Banker River Valley, REALTORS
• Gerrard-Hoeschler Realtors,
• Homestead Realty, Inc.
• Hoppens Realtyns
• RE/MAX First Choice
• OneTrust Real Estate
• First Weber Realtors