Icon:
Leithold Music Sets the Tone for Downtown
Frederick Tillman, a German immigrant, and his brother, Wilhelm, started a furniture and upholstery business in La Crosse in 1869. The building was designed by local architects Stoltze and Schick — Romanesque revival style featuring colossal round arches on the upper stories. The building was occupied by Tillmans from 1889 until 1964.
Leithold Music moved into the building on April 27, 1964.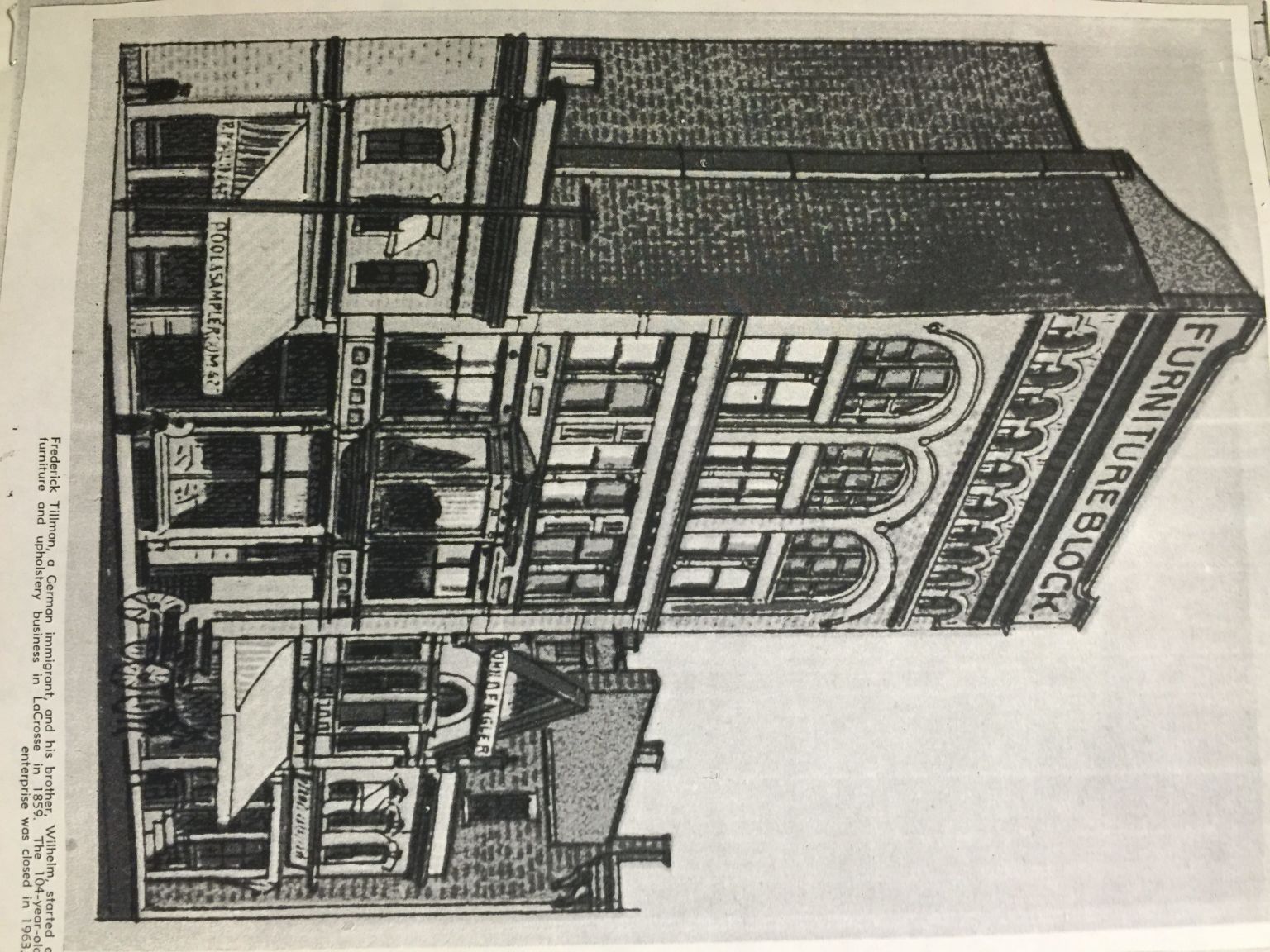 116 Years in Downtown La Crosse
Leithold Music has occupied six different locations, all downtown, before moving to its current address, 116-118 South Fourth Street.
1888: 318 Pearl Street, now occupied by Cheap Shots
1898: 125 South Third Street, now occupied by the Library Bar
Late 1800s: 307 Main Street, later became Terry's Music and Danny's Music, now occupied by verve, a Credit Union
1902: 325 Main Street, formerly Lesh Music House, now occupied by Mind Altering Tattoos
1934: 221-223 Main Street, later became Dahlberg Music, now occupied by the parking ramp, approximately the former location of La Crosse Leather and Fur.
1964: 116-118 South Fourht Street, formerly Tillman Brothers Furniture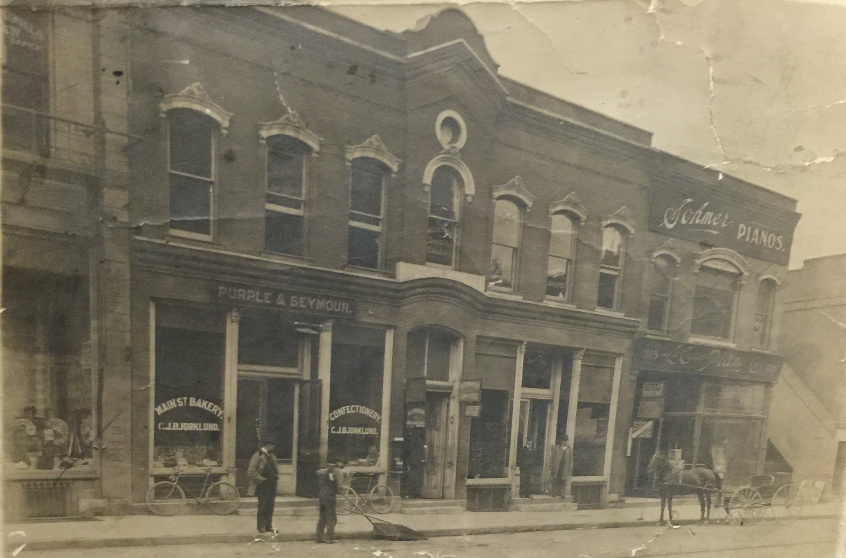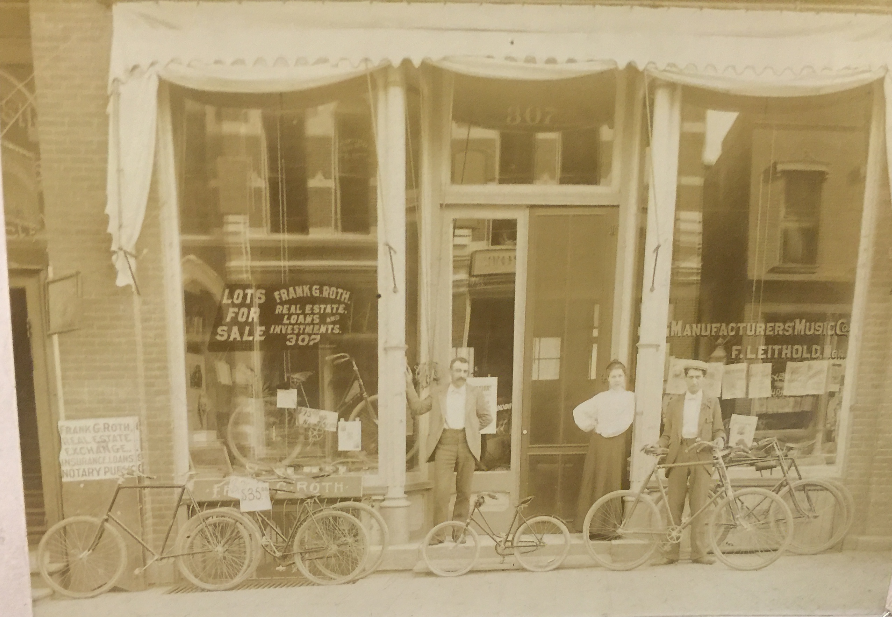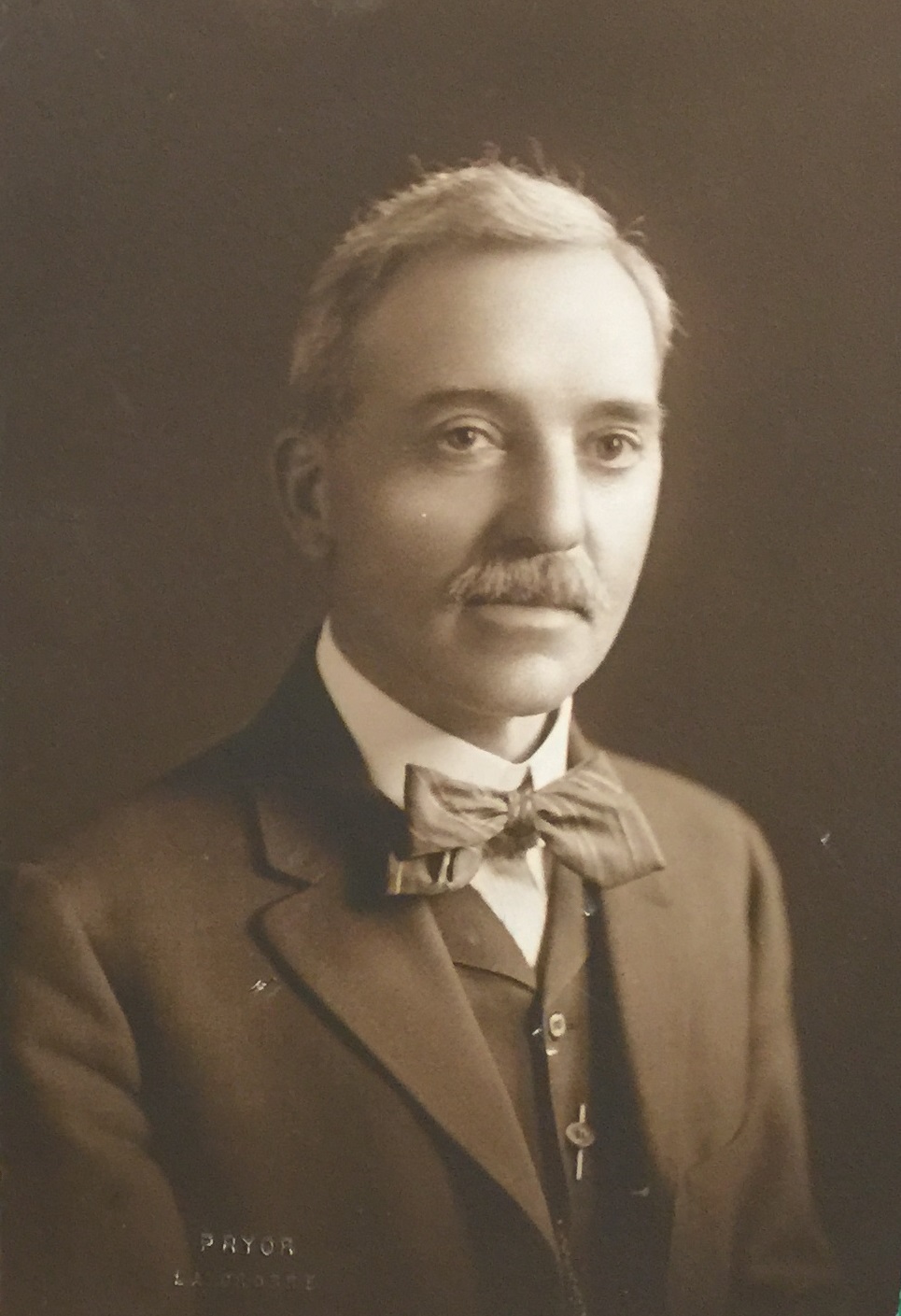 Fred Leithold, Pioneer Dies
Founded Piano Firm in La Crosse
(La Crosse Tribune, February 12, 1953): Fred Leithold, 95, died suddenly early Thursday at his home, 212 N. 10th Street.
Leithold, the oldest active merchant in La Crosse, had not missed one day of work, because of illness, in the past 64 years. He was the founder of the Leithold Piano Co.
He was born on a farm near Garnavillo, Ia., on September 22, 1857. Leithold's education included work at Upper Iowa University, Fayette, Ia.
After his university education had been completed, he took up the trade of piano tuning in a piano factory. He traveled within a 100-mile radius of La Crosse, using a bicycle for transportation. The roads in those days were sandy and unimproved in any manner.
Encourages Musicians
Leithold also took over the ownership and operation of the La Crosse School of Music in about 1905. As a music merchant, he believed in and personally worked diligently to assist in bringing many famous musical celebrities to the city. He has encouraged untold hundreds of young persons to develop their talents in the musical world.
Leithold was a member of First Presbyterian Church for more than 60 years. He was one of the chief organizers and officers of the first Men's Club of that church. Later he was elected a ruling elder and still later became a member of the board of trustees.
He was an active member of the Board of Trade, predecessor to the Chamber of Commerce, an officer of the one-time Wisconsin Music Dealers Association, and one of the earliest members of the National Association of Music Merchants.
Interested in Bowling
When Leithold was 66, he became interested in bowling and continued in that sport until he was past 90. He married Mollie Stankey in 1896; she died in 1934. In 1936 he was married to Mrs. Nellie MIller, who survives him. Other survivors include a daughter, Mrs. F.H. (Mildred) Adler, Cleveland HIeights, O.: two sons, Harry R., La Crosse; and William, Green Bay, Wis.
Funeral services will be held Saturday, Feb. 14 at 2 p.m. in the sanctuary of the First Presbyterian Church, West Avenue and Cass Street. The Rev. Mark Andrews will officiate. Friends may call at the Dahl Funeral Home Friday between 7 and 9 a.m. and at the church from 12 noon until 2 p.m. Burial will be at Oak Grove Cemetery.
Walking Club a Novel Means of Securing Business
The Review last week published a story regarding the novel advertising scheme promoted recently by the Leithold Piano Co., of La Crosse, Wis., who make a feature of the Davenport-Treacy pianos and player-pianos. The scheme, which has proved to be most successful, comprises the Leithold Walking Club, a members of which are attired in especially made costumes, as may be seen in the accompanying illustration, parading through the town of La Crosse at various times and literally drumming up business for this music shop. The accompanying illustration was taken in front of the Leithold wareroom and shows the attractiveness of the store occupied by the company, which was recently remodeled in most artistic fashion.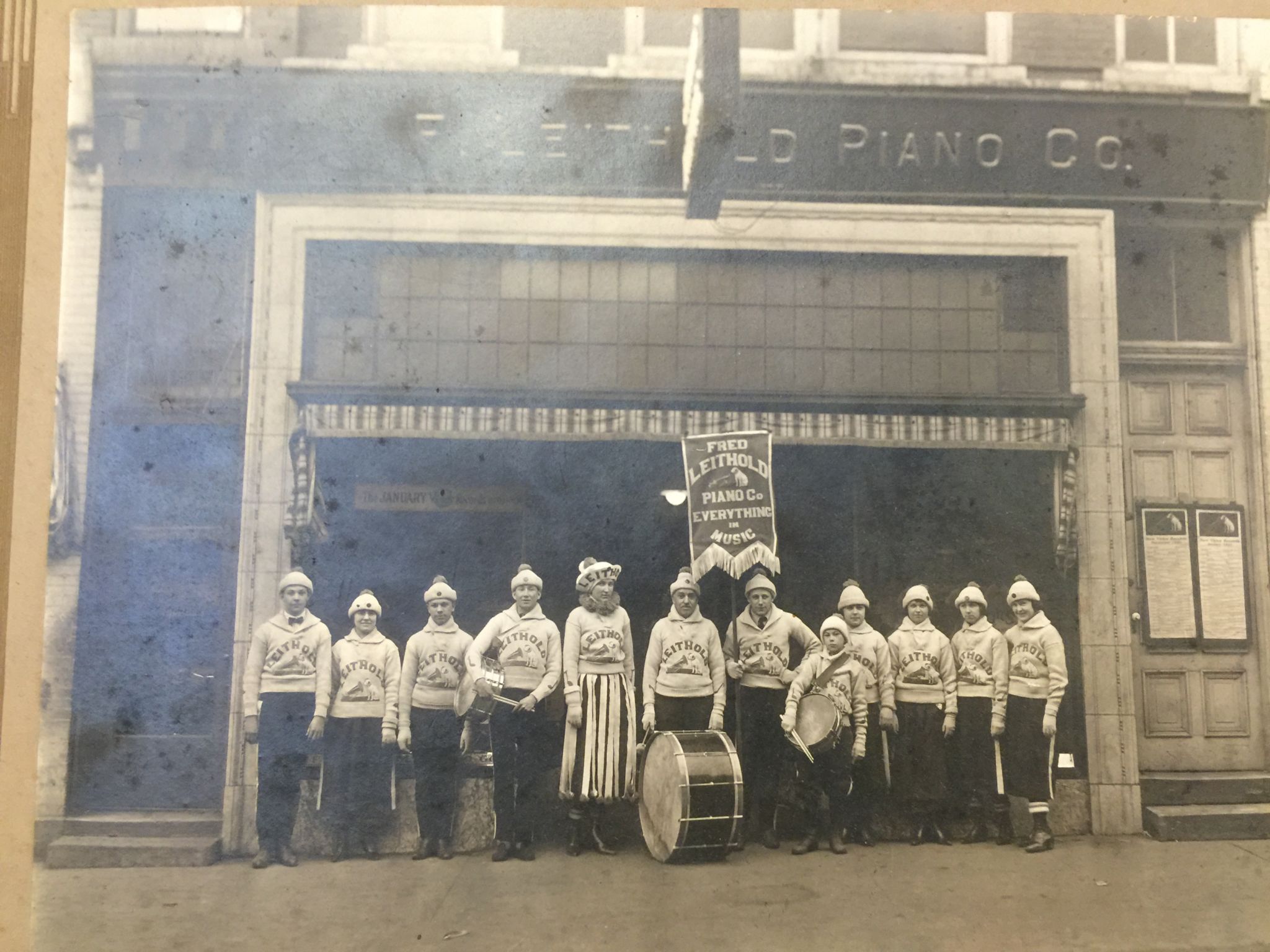 Leithold Founder Fred Leithold organized a promotional band for the store. Employees of Leithold Music in 1921 gather with their instruments. Fred is behind the bass drum. 325 Main Street.
Second Generation: Harry R. Leithold (1892-1967)
(excerpts from La Crosse Tribune, January 3, 1954, February 2, 1967, and July 18, 1979)
Harry organized the first high school band in this area when it was considered something of a frill. He helped many schools start their music programs and find the teachers to run them. He was active in the La Crosse County Historical Society. He was the last surviving charter member of the La Crosse Kiwanis Club (Noon), and was active in its many community projects.
Harrys' favorite products were the phonographs and records. Leithold Music was one of the first in the United States to display the "new fangled" Victor Talking Machine with single sided discs in 1900. As a premium for being one of the first 100 Victrola dealers in the United States, Leithold Music received a three foot papier mache "Nipper" dog for display. As technology progressed, so did the telelvision and stereo equipment departments. In 1954, Leithold Music ranked among the top 20% in volume among record stores in the United States.
Harry's wife Ida began working at Leithold Music in 1917 as Ida Hefti when she was 17. Hearing that the store needed help, Ida's aunt brought her in to apply for a job. Ida played the piano for the management and was hired. Ida worked at Leithold Music until the 1980s assisting customers with their music selections.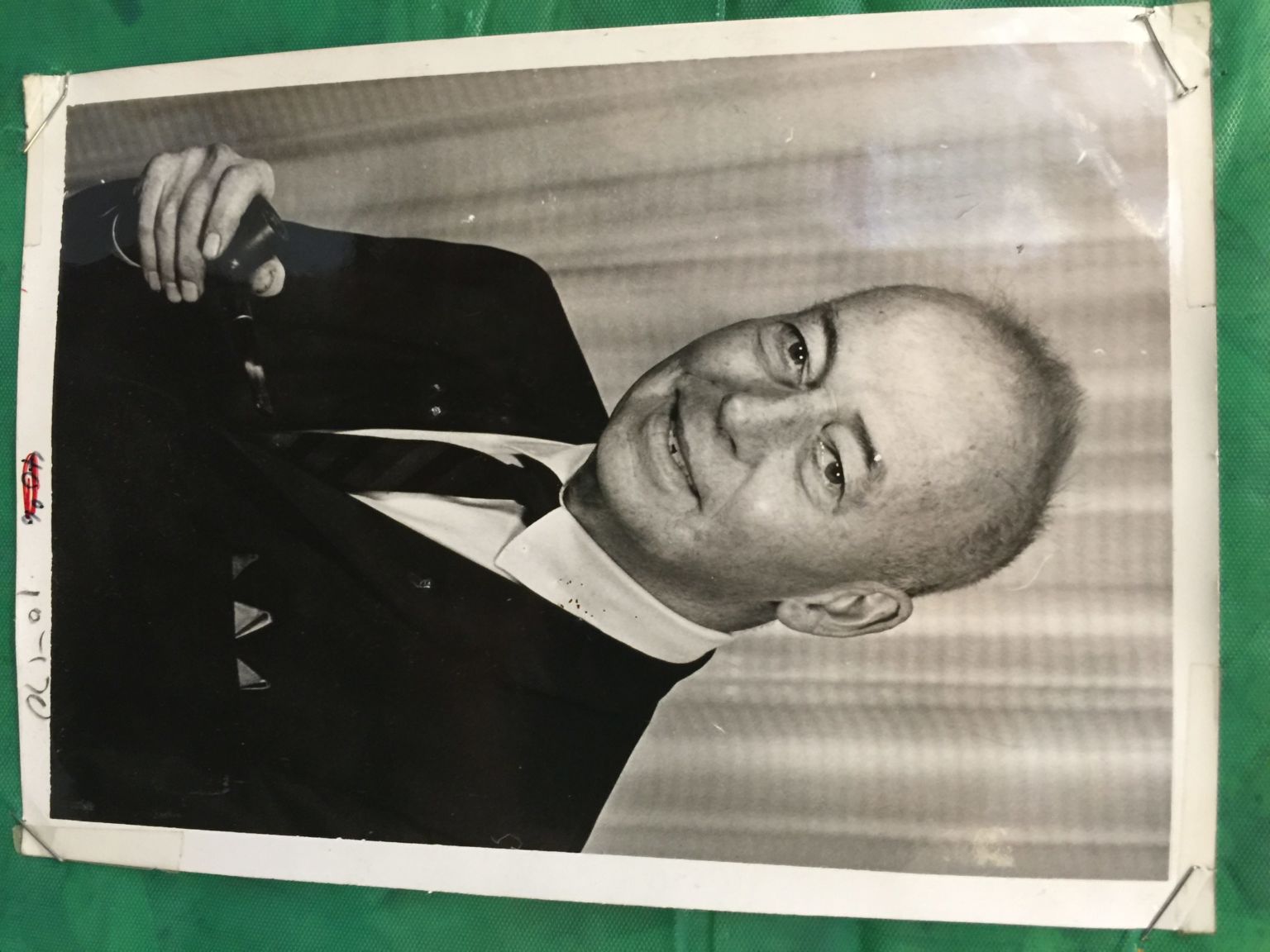 La Crosse Music Store Ranks Among Top Record Sellers
(La Crosse Tribune, January 3, 1954): The original "Doggie in the Window" might have had its start in the window of Leithold Piano Co., 221-223 Main St., a firm which is 65 years old and which ranks among the top 20 per cent in volume today among record stores in the United States.
Harry R. Leithold, sole owner of the firm which now handles many lines of musical equipment and supplies, with humor referred to a Sunday in 1898 when a dog apparently was locked in the store. The founder of the firm, the late Fred Leithold who died in February of htis year, was in Chicago.
A policeman came to the Leithold residence that morning to report that a doggie was in the window chewing rosin and gut strings off the display of violins. The store was then located at 125 S. 3rd Street.
Mrs. Leithold had no key and so gathered her small children together and walked to 9th and Johnson streets where she contacted the one employee who possessed a key. She was Miss Elise Lavold, later to be Mrs. Percy Cilley.
The pooch was liberated, Leithold recalls. The dog apparently had been locked in the store accidentally the Saturday night before and just got Hungry on Sunday morning.
The firm was founded by a senior Leithold in 1889 at 318 Pearl St., presently home to Ora's Shoe Store. During the 65 years the senior Leithold was with the firm he was never known to have missed a day of work due to illness.
After a few years the firm moved to 3rd street where the doggie made history in the Leithold family. The next stop of the store was to 307 Main St., present home of another music firm, Terry's.
Later, Leithold moved to 133 S. 4th St., present location of the Consumer's Food Store. The building was purchased by Nels Thompson as a site for his clothing store in 1902.
No suitable building was found by Leithold so the Lesh Music House at 325 Main St., and its stock was purchased. This site was used for 32 years until the final move in 1934 to its present spot gave the piano and music firm more needed room.
Radios, phonograph, or electronic devices were unheard of in the early days of the business. Violins were popular sellers as were the five-string, regular banjos and mandolins. Mouth organs, accordions, harps, and sheet music constituted the stock of small items. Strings, rosins and picks also were displayed.
Parlor reed organs moved faster than ordinary upright pianos because the price was within reach of the average wage earner.
The senior Leithold once delivered a large, ornate reed organ to a farm home. A dry horse and wagon were hired. The former's wife proudly hauled out $90 in silver dollars that she had accumulated in egg money over the years. This was payment for the organ.
Sales in the 1890s were meager at times. Day books show a sale of a 5-cent mandolin pick on one date.
While the firm was at 307 Main St., the building was shared by the D.H. Harrison Wallpaper, Paint and Stationery Store. When Harrison quit business his stock of stationery was added to the music store.
At one time before the turn of the century, the late Frank G. Roth and his brother, George, had a bicycle agency and office in that location.
The senior Leithold spent much time on the road selling and turning pianos. He used a bicycle over many miles of rough, dusty and sometimes muddy roads. He tuned pianos in one family for three generations. He would cover up to 90 miles radius from La Crosse and a round drip could total as much as 225 miles.
The store owner would start out before daylight and return after dark. Occasionally, he would stay over night in a small village hotel if he were too far from home.
The piano business remains as one of the leading lines in the store today although television and "hifi" (high fidelity) equipment also have a prominent role.
The firm was one of the first in the United States to display the "new fangled" Victor Talking Machine with single sided discs. This was in 1900. The platters sold for $1 for popular selections and $5 for operatic classics.
Leitholds have sold Victor, now called RCA Victor, for nearly 54 years.
A year or two later, the Edison cylinder records and phonographs complete with long horns and supported by floor stands, arrived on the market. For the first 30 years no music store was permitted by manufacturers to take on competing lines.
In the past score of years, the store has had to offer all brands to the customers as buyers demanded particular artists.
In 1925, a young man came to the store to purchase a crystal set, forerunner of many a modern radio set. The set cost $1.75 plus $2 for earphones. The young man had been hurt in a hunting accident and wore his arm in a sling, returned the same afternoon for another set and came back the following day for a third unit.
The radio manager asked the young man what he was doing with all the sets. "i'm selling them and making a little to boot," he said.
Whereupon the hunter was urged to take a job with the store, selling sets. The young man, Frank Viojette, took the job and has been sales manager in radio, television, pianos and organs ever since.
Third Generation: Roger Leithold (1968-1995)
Music Store Caters to Changing Tastes
(La Crosse Tribune, 1979): Reveries, ragtime and rock, Ida Leithold has seen and heard them all during her 62 years in the music business.
Mrs. Leithold started work with Leithold Piano Co. in 1917 as Ida Hefti when she was 17. In those days, the firm's founder Fred Leithold, tuned pianos. She had an aunt in Hokah, Minn. who taught piano and knew Leithold.
Hearing that the music store needed help, Ida's aunt took her to apply for a job. Ida played the piano for the management and was hired. "It was my first — and only — job," she said smiling.
The business, now at 116 S Fourth St., started at 318 Pearl St. in 1888 and has been at sevearl locations. When Mrs. Leithold first came to work, the store was at 325 Main St.
She married the late Harry Leithold, son of the founder, and although she is now president of the firm and co-owner with her son, Roger, Mrs. Leithold can still be found most days assisting customers with their music selections.
Phonograph records have maintained popularity at Leithold's Youthful record customers who today go into a store and select an album sealed tightly in a plastic wrapper might be amused to learn that records were not always sold that way.
The Main Street store had booths for persons to play the old 78 rpm's, said Mrs. Leithold. "Four booths were reserved for popular music and three for classical," she explained, the distinction apparently due to the higher decibel level of the popular sound.
Although some of those old services no longer exist, new ones have been added at the music store, said Mrs. Leithold.
"We have expanded everything." Salesmen go out to area schools with band instruments, and lessons are available on the instruments people purchase at the store."
Throughout Mrs. Leithold's career, a number of famous artists have passed through the store. "In the 1920s, Marian Anderson and Leontyne PRice were in town to perform with the La Crosse Symphony," reminisces Mrs. Leithold. "Since they were RCA recording stars and we were an RCA dealer they stopped in our store for a visit."
Another nationally known group to call at the time was the Peerless Quartet, with whom singer Henry Burr preformed. Lindy Shannon, salesman with Leithold since 1945, has a vivid recollection of an unscheduled visitor.
"In the late 40s a man came in and asked to see the Wayne King record stock. I took him over and showed him and he said "That's a pretty good supply'. " Gradually Shannon realized that he was speaking to the famous Waltz King himself, who was putting in reserve time at Fort McCoy.
Asked about trends in music, Mrs. Leithold and Shannon are in their element. One of the major changes in preference, they said, is the type of music heard at weddings. Whereas everyone used to choose such standards as "Because" and "I Love You Truly," couples now prefer popular music such as "If" by the rock group, Bread.
Shannon, manager of the record department at Letihold, said that the most phenomenal trend he has seen in a long time is disco music, which  describes as rock with a Latin beat. The popularity of htis styel has led to changes in teh public's buying habits, said Shannon.
"In the 50s adults never bought rock music. Now they do, as it's about the only thing heard on radio and TV."
The topic of prices evokes contrasts with the Leitholds. "Pieces of sheet music cost 10 cents a piece many years ago." said Mrs. Leithold. "Today some area as much as $2 each."
Roger Leithold referred to a newspaper ad run by the firm in an April 1898 edition of the Bangor Independent. It listed a "first class organ" for $45. "Now the cost of delivery would be as much as that," he said.
"I have especially enjoyed the children. I've seen many of them grow up to become grandparents. Now they come in with their own grandchildren."
(Holmen Courier LIfe October 15, 1998)
Roger Leithold of Holmen was puzzled on Tusday, September 29 when his family convinced him to get dressed up and go to work at Leithold Music on his day off. But when he reached the store, the reasoning became evident: the day Leithold became the second individual in the United States to receive the Yamaha Corporations's Touchstone Founders Award, an honor the company is extending to its long-time dealers.
"They kept it a secret," said Leithold of the surprise award.
Members of his family as well as employees of the store looked on as Leithold, who has been selling pianos for 50 years, accepted the honor from Terry Lewis, head of the Yamaha Corporation in the United States.
"My family has always known what a great guy he is, but to have Yamaha recognize him … we were just beaming!" said Abbie Leithold-Gerzema of her father.
The Touchstone Founders Award was designed to honor long-time Yamaha piano dealers who have had a successful history selling Yamaha pianos and hwo have a succession plan in place to keep selling Yamaha pianos in the future. Leithold is now semi-retired and the business is currently run by his children Paul Leithold and Abbie Leithold-Gerzema, president and vice-president respectively. Originally known as the Leithold Piano Company, the store has been selling pianos since 1888.
Leithold said he often has kids whose parents purchased pianos from him return as adults to purchase pianos for their own children.
"He gets so excited talking about pianos," Abbie said, adding that he is a useful resource to the store employees. Pulling out a guide to the different brand names of pianos, well-known to the obscure, Abbie said Roger can do what the book can do in his head.
"There's a lot to be said for experience. There are some things you can't learn in school," Abbie said after her father had excused himself from this interview to sell yet another piano.
"He taught me everything I know," said Abbie of her dad.
It will take another 50 years for him to teach her all he knows, Abbie added.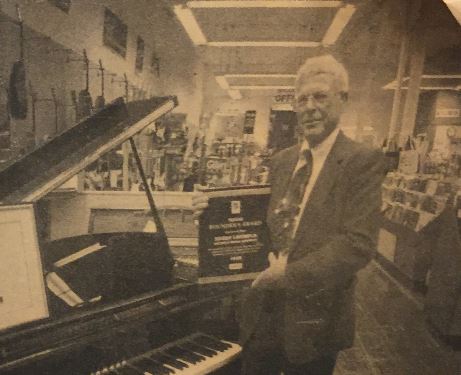 Fourth Generation: Paul J. Leithold and Abbie Leithold-Gerzema
As a brother and sister team, Paul and Abbie share ownership as well as management duties.
Paul is a graduate of University of Wisconsin-Stevens Point with a music degree in French Horn Performance. He oversees the Band, Orchestral, and Combo (guidtar, drum, p.a.) departments. His classic dance band, Double Take, performs at local establishments and churches. Paul's son, Steve, is now employed in the business.
Abbie is a graduate of Drake University with a music degree in Pipe Organ and Business. She oversees the piano, digital piano and keyboard departments as well as all advertising. She plays organ part-time at First Presbyterian Church in La Crosse.
Paul and Abbie have two sisters, Susan, a music teacher in Owatonna, Minnesota, and Ellen, an investment relations executive in Kalamazoo, Michigan.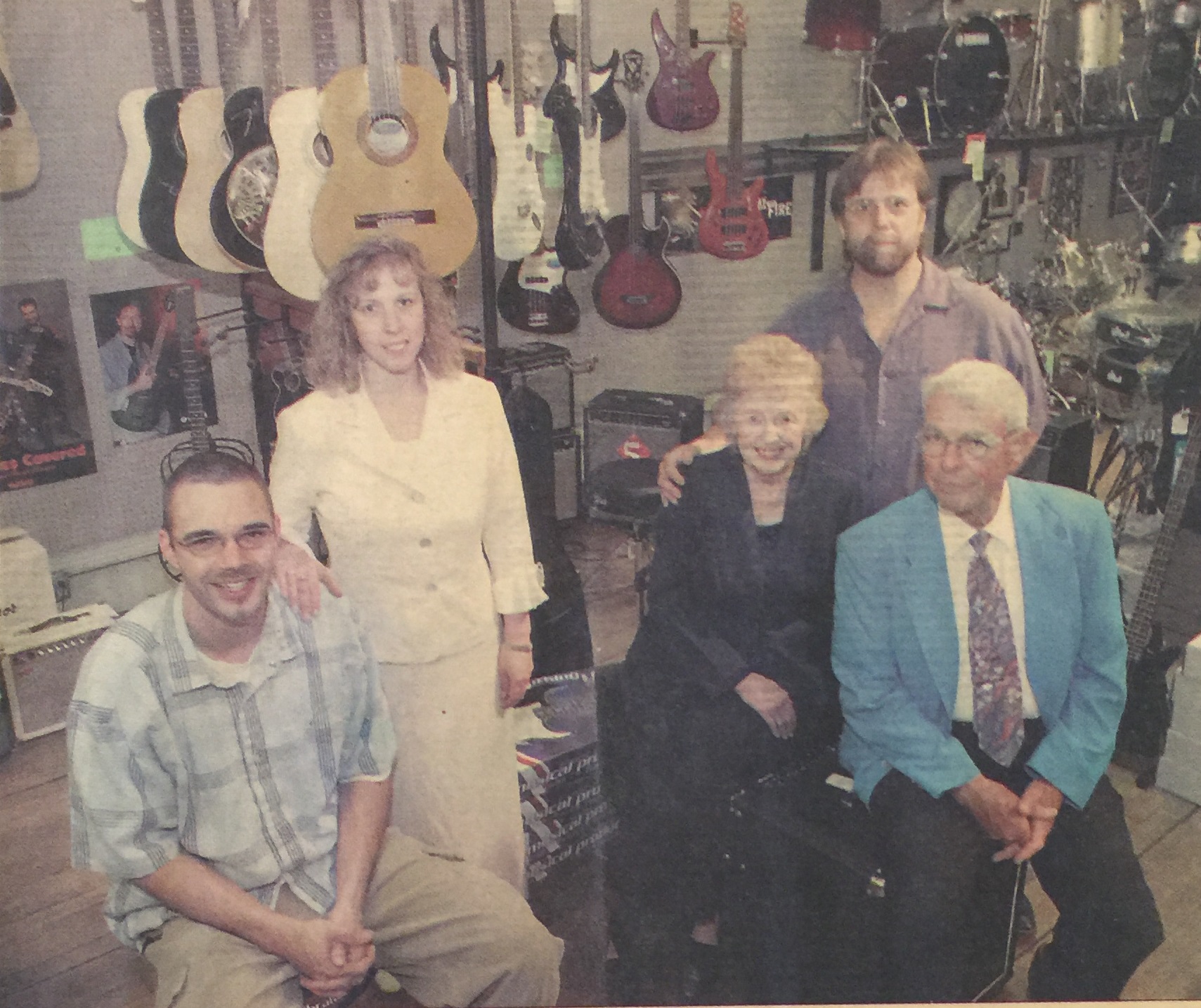 Since Fred Leithold opened Leithold Music in 1888, the Leithold family has been running the La Crosse business. Today, from left, Steve Leithold, Abbie Leithold-Gerzema, Teresa Leithold, Paul Leithold, and Roger Leithold oversee the downtown music store.
Musical Family
Sure they own a music store, but for the Leitholds, music is more than just a job — it's a lifelong passion
Joan Waniger likes the way the stairs creak when she goes to the second floor of Leithold Music.
"It's old, and it has different levels, and the people are always helpful," Waniger said as she accompanied her 10-year old daughter, Annie, who was buying an electric bass guitar with some money she earned. "You know a lot of people have passed through."
Paul Leithold and his sister Abbie Leithold-Gerzema operate the store along Fourth Street, which was started by their great-grandfather Fred Leithold, a piano tuner from Postville, Iowa. He opened his first store in 1888 in La Crosse and operated at several locations downtown.
Fred never lost a day of work to illness, and he was still workign when he died at age 95, according to an old newspaper clipping hanging on a wall in the store.
In 1964, his grandson Roger, Paul and Abbie's dad, moved to the current location, a former furniture store that stsands five storeis tall with a basement.
Today, visitors t this downtown store are immediately immersed in a world of music.
The first floor is full of instruments and accessories: the second floor contains teaching rooms and pianos on display, and the third floor houses the repair department. More teaching rooms are located in the basement, where the DaCapo band rehearses on Saturday mornings.
Leithold Music caters to students, teachers, professional and hobby musicians, Paul said. About 600 students come for lessons at the store each week, he said.
"My dad brought me in here,"said Alyssia Amador, who will be a freshman at Central High School in the fall. "It's really cool. It's a little store, but it's got all these good brands."
The Leithold's mission is to get people involved in music so they rent space at a nominal fee to 28 teachers, Paul said. "Then, when the students want to buy their instruments, they trust us and become customers for life. We cold not survive if we only sold once to people because our town is so small. We depend on repeat offenders."
The store has served three generations of some families, Abbie said. Oftentimes, she said, kids bring their parents in.
Part of Paul's job is to go to schools throughout the region to sell instruments to schools.
Students and instruments at first, he said. "The better experience they have renting from us, the more likely they are to buy, and if they have a good experience in band, the more likely they are to enjoy music their whole lives. When people get out of school, they do not play sports anymore, but we have a lot of 50- and 60-year olds who still play instruments."
The Leitholds all play music themselves, and Abbie says the store is a way to share their passion.
The store has had different focuses throughout the years. In the early 1900s, the emphasis was on pianos including player pianos.
Harry Leithold, Roger's father, focused on records and phonographs starting in the late 1930s. The store had listening booths back then, where a potential customer could come and listen to records. Local music legend Lindy Shannon managed the record department from 1946 to the 1970s, Roger said.
In the 1950s and 1960s, the emphasis was on organ music. In the 1970s, the store switched back to a heavier emphasis on instruments and music instruction. In the 1980s, the store began stocking more electronic equipment. Today, one of the newer instruments is the digital piano.
The store has survived through a love and dedication to music and a lot of sacrifice, Paul said. "In the 80s, 80 percent of the mom-and-pop music stores went out of business. There was a lot of competition and lean times. We just plugged away and found ways we could be successful. We went the extra mile for people."
Along the way, they did some bartering too. But most of that was a long time ago, Paul emphasized, recalling finding a receipt from the early 1900s that said: Paid in full with a horse and $5.
In addition, he said the store tries to be competitive with prices customers can find online.
"Plus, we give the knowledge and repair," Abbie said.
"We are never going to be a brand-spanking new store," she said as she walked up the creaky stairs to show the equipment repair room, where a repairman worked amid a maze of tools and instruments. "But we have character."