La Crosse County by the Numbers
Accommodation & Food Sales (2007)
Travel Time To Work (minutes)
# of Higher Education within 60 miles
La Crosse Business Environment
The cities of La Crosse, Onalaska and Holmen and a dozen surrounding towns and villages comprise the County of La Crosse, which is home to more than 114,000 residents. Join the growing business community Inc magazine named the nation's 4th Best Small City for Doing Business and 15th Best City in America to Do Business in 2005. For demographics, employment data and education statistics, visit 
http://mrrpc.com/LaCrosse_County.html
.
Top Employers
[infographic id="x1496257263037″]
Revised May 2015
Employers of Choice – these employers are impacting regional economic and community growth in La Crosse County.

Chart Energy & Chemicals is a worldwide premier supplier of brazed aluminum plate-fin heat exchangers, aluminum separation vessels, cold boxes & associated products.

First Supply has a rich history of service to the building community. Originally incorporated in 1897 as a family owned supplier of pumps and windmills, this growing company has evolved into the single source provider that most Midwestern contractors rely on for wholesale plumbing, heating and cooling, municipal, waterworks, well & septic, builder PVF and industrial supplies. Recognized nationally as a leader in the industry, this main channel wholesaler stays focused on maintaining the best support staff and most reliable products available to contractors today.
With 8,000 employees in six hospitals and clinic locations in three states, Gundersen Health System's purpose is to enhance the health and well-being of our communities and enrich every life we touch. Learn more about our excellence in patient care, education, research, and something we call Love + Medicine at gundersenhealth.org.

Kwik Trip began in 1965 and is a family-owned company. Kwik Trip has been named a Top Workplace in Wisconsin, Minnesota and Iowa. Kwik Trip not only serves customers with clean retail stores, but also produces more than 80% of the products featured in the stores supplied by its own commissary, bakery, dairy and distribution center located in La Crosse, WI.

Kaplan Professional is a leading global provider of financial and accounting educational solutions for individuals seeking industry related designations, licensing and/or continuing education.

Beginning as Western Wisconsin's first hospital in 1883, Mayo Clinic Health System – Franciscan Healthcare continues to put the needs of its patients first through the delivery of safe, high-quality patient care across the 7 Rivers Region. We are part of a respected network of community-focused hospitals and clinics that serve Iowa, Minnesota and Wisconsin. Mayo Clinic Health System Is recognized as one of the most successful regional health systems in the nation with more than 1000 providers serving more than half a million patients annually. Our patients have access to care based on the research, innovation and experience of the best physicians and scientists in the world. We bring all the knowledge and expertise of Mayo Clinic to you, close to where you live.
Four Seasons of Fun
In Nature's Place to Play
La Crosse has an abundance of art adorning our streets and filling our senses. Here are just a few of the places where art tends to congregate, but there's much more on the
Arts Community Calendar
.
Populations
La Crosse, City        51,320 Onalaska, City        17,736 Holmen, Village        9,005 Onalaska, Town        5,623 West Salem, Village    4,799 Shelby, Town             4,715 Campbell, Town        4,314 Holland, Town           3,701 Hamilton, Town        2,436 Greenfield, Town      2,061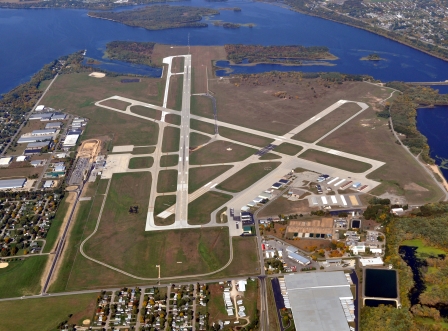 La Crosse Regional Airport
Low. Stress. Experience.
The La Crosse Regional Airport offers close parking, easy check-in, convenient daily flights to major hubs, free WiFi, and a comfortable atmosphere to make your travel experience a pleasure.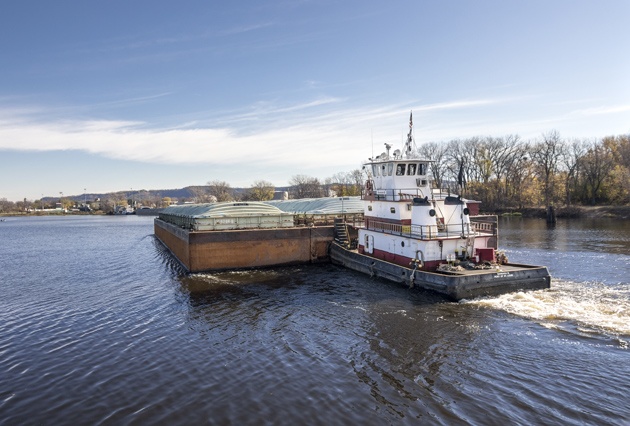 Port of La Crosse
An International Gateway
Situated at mile 697 on the Upper Mississippi River. More than 1 million tons of commodities are transported by barge every year.
Inbound Shipments:
Asphalt for road construction
Cement for buildings and road construction
Coal for power production
Cottonseed as a source for cattle feed
Fertilizer for area farms
Pig Iron for Wisconsin foundries
Salt to melt road ice
Other Bulk Products
Outbound Shipments:
Grain (corn and soybeans)
Specialty manufacturing
Connecting La Crosse area farmers and manufacturers to international markets.
Mississippi River Port Size
Tons of Commodities Transported