Why This Matters
"Safer at Home" or similar orders have occurred in California, New York and Illinois. This means all non-essential businesses and workers must stay at home. As Illinois Gov. J.B. Prizker said, "I fully recognize that in some cases I am choosing between saving people's lives and saving their livelihoods. But ultimately, you can't have a livelihood without a life."
The goal is to limit the spread of COVID-19.
The goal is to not tax our health system to the point where we don't have the equipment to provide life-saving care.
Federal guidelines give state and local authorities leeway on how they define essential.
Companies Saying They're Essential
 To leave no one wondering who they can do business with, we are compiling this list. 
Gundersen Health System
Mayo Clinic
Chart Industries
Kwik Trip
Office Depot
To Get Added to the Above List
What We've Heard
Governor Evers is expected to follow Ohio's order which follows the Dept. of Homeland Security's "Essential Infrastructure".
To give you a *guideline* of what's expected, here's how Ohio listed essential vs. non-essential:
Stores that sell groceries and medicine
Food, beverage, agriculture manufacturing, production, processing, cultivation
Charities: business, religious and secular nonprofit organizations
Media
Gas stations and businesses needed for transportation
Financial and insurance institutions
Hardware and supply stores
Critical trades:

construction & subcontractors
exterminators
cleaning & janitorial staff for commercial and governmental properties
Security
HVAC
Painting
Moving & relocation services
Other providers necessary to maintain the safety, sanitation, and essential operation of residences, essential activities and essential business operations

Mail, post, shipping, logistics, delivery and pick-up services
Educational Institutions

for distance learning purposes, critical research and essential functions (all must socially distance)

Laundry services
Restaurants for consumption off-premises (using current social distance restrictions)
Supplies to work from home

sell, manufacture or supply products needed for people to work from home)

Supplies for Essential Businesses

computers/IT, audio/video, household appliances, medical equipment, food & beverages, soaps & detergent

Transportation

airlines, taxis/Uber/Lyft, car rentals, marinas, docks, boat storage and other private, public, commercial transportation logistics

Home Based Care facilities
Residential facilities and shelters
Professional services

legal, accounting, insurance, real estate (appraisals and title service included)

Manufacture, distribution and supply chain for critical products and industries

pharmaceutical, technology, biotechnology, healthcare, chemicals and sanitations, waste pickup and disposal, agriculture, food and beverage, transportation, energy, steel and steel products, petroleum and fuel, mining, construction, national defense, communications, as well as products used by other essential businesses and operations

Critical labor union functions
Hotels & Motels
Funeral Services
Non-Essential Travel Restrictions
AGAIN: This is how *Ohio* is operating. We are awaiting official word from Wisconsin.
Businesses, including home-based businesses may continue to operate consisting exclusively of employees or contractors performing activities *in their own residences (not several people meeting in one home because you're not supposed to travel).

No public or private gatherings with other households.

Travel is restricted to "essential" meaning:

Health or safety

Necessary supplies and services

Outdoor activity. NOTE: playgrounds were to be closed due to holding the virus

To get to work

To take care of others (family member, friend, pet and transportation).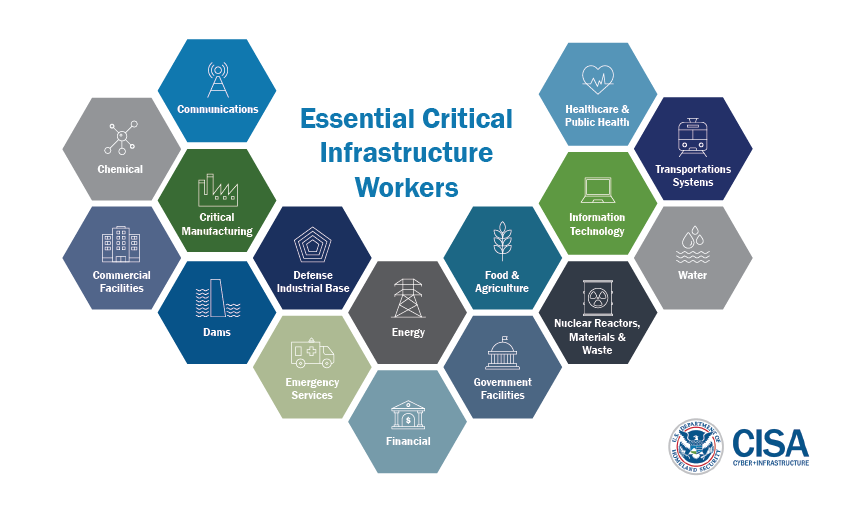 U.S. Chamber Advocacy
The U.S. Chamber is encouraging states (who control the definition of "essential services" to follow the Department of Homeland Security's identification of critical infrastructure during COVID-19.