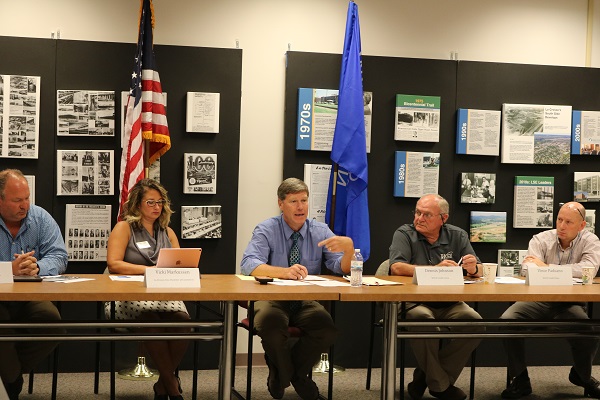 Businesses to Congress: Tariffs Hurt. Some Say, "Bring it On!"
Agriculture, manufacturing and distribution companies gathered at the La Crosse Area Chamber of Commerce to tell Congressman Ron Kind that they've felt the tariffs. A few followed their comments with, "It's about time we do this! I support the effort!"
Impact on Manufacturing
For companies like Mid-City Steel, Chart, Trane, Indus International, and LB White, the price increases have increased from 3% to 25% on their raw steel and aluminum. Several expressed the difficulty of bidding now on projects that won't begin for another year.
S&S Cycle
This Viroqua-based motorcycle parts company saw 10-20% price increases. They are seeing quotes now with tariff clauses that makes it hard to price. Even their welding wire is increasing.
Trane
Trane's competitors are equally impacted by the tariffs because most of them also reside in the United States. Their competitive advantage is in how they manufacture their products, not in the materials. They have seen 3-10% increases from their suppliers and have been able to pass this on to customers. The instability makes forecasting difficult.
Chart
All of Chart's heat exchangers are made from aluminum sourced from Europe. There is no domestic source that can provide the type of aluminum that makes their product. Materials are usually 40% of their cost with labor being 60%. They filed an exemption / exclusion from the tariffs but heard from Congressman Ron Kind that the steel industry fights the exemptions resulting in most being denied. The uncertainty causes fear with their customers.
Dakota Supply Group
As a distributor of electrical and plumbing, Dakota Supply Group is getting daily updates on price changes on many of their components. This is causing a lot of work on having to requote projects.
Indus Industries
Indus Industries in West Salem makes a high-quality scanner for books. They are the only U.S. based company with his competition falling in other countries. He faces double pain – the cost to bring in his steel is higher and then the tariff to get it to Europe is 19%. He is priced out of competing for business in Europe where his competitors don't face the same challenges.
Mid-City Steel
This custom metal fabrication company in La Crosse has seen 15-20% price increases in steel. They have been able to pass the price along to customers after initially absorbing some of it. They are uncertain what 2019 will bring.
The Impact on Agriculture
For the agriculture industry, in what is now the fifth down year for profitability, the pain is everywhere — less demand for their crops resulting in federal subsidies, the metal to build grain silos to store it through the times of uncertainty is steel and seeing increases. Meanwhile the market volatility makes the banks less likely to loan money to carry them through this hard time. The conversation is, "do you want to preserve assets or spend them" by using up their cash/reducing equity. "The message is cut, cut, cut," according to one banker with the Westby Community Credit Union at the meeting. He said most of his time is spent on survival plans and farm sales.
Once their food gets to are sold, canning companies such as Crown Cork in La Crosse are seeing an increase of $0.02 per can, causing them to fear their canning product will get replaced by the plastics industry.
Nearly 70% of the Midwest's (WI, MN and IL) food is used in processed food and vegetables.
Bakalars Sausage has seen a 10% retalitory tariff on his products whose primary foreign market is Canada. Even prior to the tariffs, in Canada poultry is considered a protected trade and tariffs are upwards of 120%.
I would rather get my check from the marketplace, not from the government
Darin Von Ruden, Wisconsin Farm Union on Trump's $12 billion bailout of farmers
A representative from Organic Valley said that the $12 billion bailout is bad policy. After working very hard to get very little money from a farm bill, to have the government come forward with $12 billion optically sends a poor message.
The Pressure to Relocate
Inland Printing, which makes packaging and labels on, for example, water bottles, says the pressure to move operations overseas has not increased with the tariffs. Several companies at the table agreed that opening operations in foreign countries is sometimes what is needed to stay competitive.
Several businesses at the table expressed support for Trump's tariffs tactic saying the need for trade changes has been spoken of for years with nothing happening. They say it is tough competing with other countries whose standards are not to our level and "we are taking it."
Several individuals referenced China's government being able to move faster, we underestimated them, and that the polarization of our U.S. government is working against us. They called for valuing and united the country as was last seen after 9/11.
Comments from Kind
Congressman Ron Kind expressed fears that companies are swooping in from other countries to fill contracts. Once market share is lost, Kind believes, it will be hard to get it back.
Kind referenced that historically recessions are usually first felt in rural economies.
"The rest of the world is moving forward without us. We are declaring a trade war. Europe is forming agreements."  Kind said we need to remain "in the tent" with the other countries using trade agreements to bring other countries standards up to the U.S. levels.
He has co-authored two bi-partisan bills for the House of Representatives, one of which has a model bill going through the Senate. In both proposals, Congress would reclaim their ability to approve tariff changes – power that Kind says the constitution allows them but that has been delegated to the president's executive team.