Moving the La Crosse Area from Good to Great
WHEN THE LA CROSSE AREA CHAMBER asked Young Professionals (defined as 21-40 year olds) what our community needs to attract talent, keep talent and move from good to great, nearly 60 young professionals provided the top insights, followed by 114 gave the drilldown explanations.
Keep in mind, 55% of those providing detail grew up some place other than the 7 Rivers Region.
Equally split were those with children and those without. The majority (60%) own their own home.
Of those who did not grow up in the 7 Rivers Region, the following attracted them:
 A job (34%)
Came here for school (29%)
My spouse found a job here (15%)
Could live anywhere. I chose it. (14%)
To be closer to family (8%)
Top attractions to living in the La Crosse area
When asked they responded:
Accessibility to public parks, hiking, biking, etc. (7.0 ranking score)
Family and/or friends (6.8)
Cost of living (6.5)
Career opportunities (6.1)
Local restaurants and bar scenes (6.0) [NOTE: more details are available on our website in this category]
When asked about quality of our outdoor recreation within a day-trip
on a scale of 1-5 (five highest) everything from mountain biking, hiking/ trail running to motorized boating to fishing, to dirt bike tracks ranked at least a 4 or higher (three was listed as adequate and five as exceptional).
Capturing Our Appeal
The group pinpointed that downtown La Crosse shops are an attraction. They captured the appeal as being (note, they were asked to select all that applied):
Locally owned (68%)
Mix of residential, offices, retail and restaurants (58.2%)
Family friendly (57.2%)
Quality of the businesses (49.5%) [NOTE: more details are available on our website in this category]
Similar to our downtown charm and going beyond, the appeal of our small business/entrepreneurial atmosphere also ranked high in what is needed to retain our talent.
When asked what could be done to attract talent
the group responded with "downtown bars and restaurants" at the higher level. The drill-down survey identified they believe the bars are just the right amount, but we need more variety, restaurants have the right mix, and shops tend to be close to the right amount but too few. Nothing ranked as having too many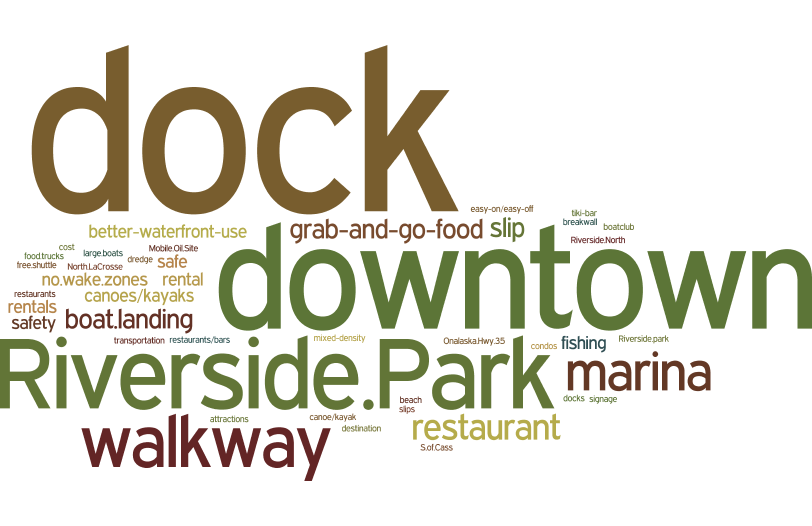 Better Access from the River
The top ranking way to move the La Crosse Area from good to great was access from the river to downtown La Crosse.
When asked for their vision, this word cloud represents common themes. Many of the comments focused on something near Riverside Park needing to be safe and tactful.
Rental Housing Concerns
Housing came up at the initial top-level ideas meeting. In drilling this down in the survey, there is discussion needed on the quality and affordability of rental housing, particularly. Both ranked 2.2 with 2 being somewhat dissatisfied and 3 being satisfied.
Rental locations ranked slightly higher with a 2.6 ranking.
Home-ownership appears to be satisfactory but with nothing rising above 3.2 for ownership quality, affordability or locations.
Mentorships
Mentoring, or perhaps coaching was another high -ranking desire expressed by our Young Professionals. When asked to select what they are seeking out of a mentoring/coaching program, the top desires were:
Career Path Advice (73.5%)
Best Practices Sharing (65.5%)
Expanding Their Horizons (64.3%)
Work-Life Balance (57.4%)
Support Local Small Business
The Young Professionals firmly believe the small business culture of the La Crosse Area is an key to keeping talent in La Crosse. The words and phrases  they most commonly expressed are "encourage entrepreneurship", "provide resources" to startup companies, "locally-owned", "support small business", "positive business climate" and "promote innovation".
High School & Higher Education Engagement
The Young Professionals expressed wanting to engage through apprenticeship, internship and other higher-education interactions. They described these interactions (selecting all that applied) as:
Increased internship opportunities (73.3%)
Engagement of are high school students (68.1%)
Mentoring college students (64.8%)
There was some interest in engaging middle schoolers (27.4%) and little interest engaging in younger ages.
How They Engage in the Community
The desire to get involved in the community was a top answer in the initial discussions. When asked what they currently are involved in outside of work they answered and to what level (1 not interested and 4 very involved) they replied:
Professional Development (2.6)
A Cause or Event (2.6)
Hobby (2.5)
Athletic Activities (2.2)